DRT National Radio Airplay Chart
Gospel Charting Artist, Angela Johnson-Neely moved up the Global Top 50 Gospel/Inspirational Airplay Chart to #19. It goes without saying, this revelation proves how good God has been to Neely as said in her charting single 'Good Morning Lord'. Neely is being received in our nation and around the world. We congratulate Angela Johnson-Neely for her contribution and motivation to inspire a listening audience during this unprecedented pandemic.
DRT GLOBAL TOP 50 GOSPEL/INSPIRATIONAL AIRPLAY CHART 08-22-2020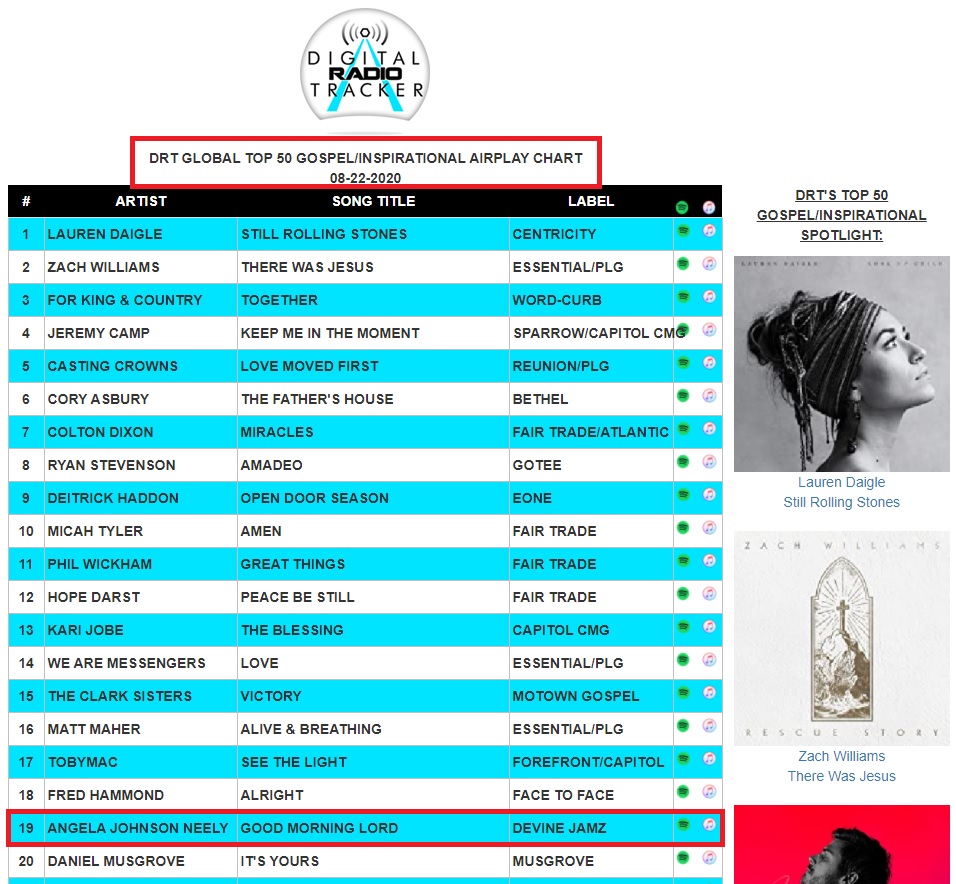 National Radio Airplay Artist - Angela Johnson-Neely
Angela Johnson-Neely, also known as Angela J, has a warm bright personality which reflects her roots in sunny Fort Lauderdale, Florida. Angela's soulfulness derives from her faith life and being raised in the church. From her earliest years Angela sang and praised in her church choir. She has continued sharing the gift of her voice over the years both in church and professionally.
Angela has served her community through her career in Law Enforcement over the past three decades. During that time period she found time to raise a family of four beautiful and talented children. The opportunity to share her voice and entertain folks in the broader community came when she auditioned to become the lead singer in her agency's band. Angela also had the opportunity to become the female vocalist in The GP Project Band. Angela has performed in many community and corporate events, festivals and local gigs.
Angela has a distinctive smooth and sultry voice and vocal range similar to a Lalah Hathaway or Maysa Leak. Her passion for music, performance and song interpretation comes through in her singing as she engages with an audience. Angela's soulfulness and sincerity shines through in her musical expression making her a true talent in today's music profession.
Interestingly, Angela turned 50 years old this year and wanted to commemorate this Golden Jubilee celebration despite the challenges of a world pandemic. Travel plans and a grand 50-year-old Birthday Bash had to be canceled, but Angela was determined to do something different, something really special. Instead, Angela decided to celebrate turning 50 with a song. Angela's very first single. "Good Morning Lord" is an inspiring praise and worship song that is geared to uplift spirits while reminding us that we need to celebrate our personal relationship with our Lord and Savior through thanksgiving and praise. May every day be a blessing...Good morning Lord.
Angela Johnson-Neely On The Web